Présentation de l'hébergement Pitches (4 - Pitches) - Family campsite - Nimes - Junas - Sommieres - Gard L'Olivier Campsite in the heart of Gard - Junas 30250,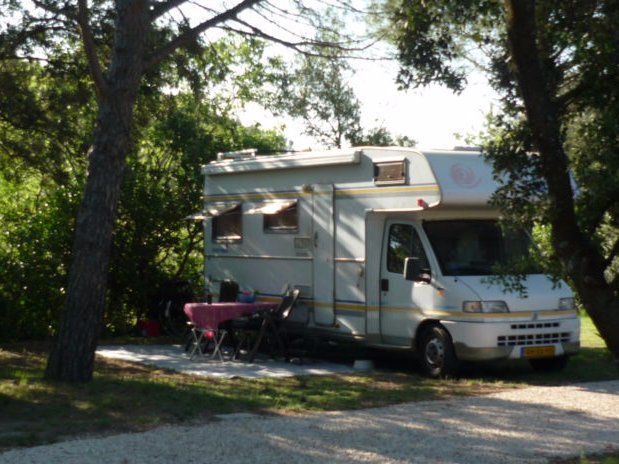 Pitches
4 - Pitches
All our pitches are surronded with Oliviers.
Our camp site *** is located at 400 m of Junas Village, and at 5 km of Sommieres, where you can go by bicycle, by feet, or by rollerblades with the greenroad nearby the campsite.
The campsite counts around fourty trees specimen. Come,discover, and count them…
Pitches purposed
With 6A electricity (or 10A for severals pitches)
Without electricity for adventuress
ACSI – ANWB – FFCC (2 persons + electricity) 15 €
Sanitary
Men sanitary
Women sanitary
Baby bath
Separate shower
WC
A sluice for caravan or motorhome
Hand washing for dishes
Hand washing for linen
Washer
Iron and ironing board
Wifi on all your sites
Everything is done to make your stay as pleasant as possible, and only a few kilometers from Nimes.

We offer barbecue rental, fridge on reservation locations
View : Garden view
Maximum number of persons : 6
01/04 at 23/06 and 04/09 at 13/10

24/06 to 14/07 and 19/08 to 03/09

15/07 to 18/08

By the day
(children 2 to 7 years)

€3.70

By the day
(Pets)

€4.50

By the day
(Extra Tent)

€4.80

By the day
(children - 2 years)

€3

By the day
(children 2 to 7 years)

€4

By the day
(Extra person + 7 years old)

€5.20

By the day
(Fridge)

€4.60

By the day
(Electricity)

€5

By the day
(Pets)

€4.50

By the day
(Extra tent)

€4.20

By the day
(children - 2 years)

€2.80

By the day
(Extra person + 7 years old)

€4.95

By the day
(RATE for 1 person RATE for 2 persons RATE for 2 persons)

€11.30

€17.20

€18.20

By the day, Fridge

€4.40

By the day
(Electricity)

€5

By the day, RATE for 2 persons

€14

By the day
(Pets)

€4.50

By the day
(Extra tent)

€3.40

By the day
(children - 2 years)

€0

By the day
(children 2 to 7 years)

€3

By the day
(Extra person + 7 years old)

€4.10

By the day
(Fridge)

€4.30

By the day
(Electricity)

€5

By the day
(RATE for 2 persons)

€14.40

By the day
(RATE for 1 persons)

€15
Comments: Package includes 1 or 2 people + pitches + car a tent or caravan. excluding electricity
Possibility electricity 10 A (at some locations): + € 1.50 / day more than the package 6A
Pricing conditions: Residential tax is 0.55 €/day/person + 18 years old
L'Olivier Campsite in the heart of Gard
Address: 112 Route de Congenies 30250 JUNAS FRANCE
Access: - Access A9 Highway, exit Gallargues Le Montueux, direction Sommières or for longe vehicle, exit 26 Gallargues Le Montueux direction Calvisson and Junas
- Access by plane, airport Nimes
- Access by train, station SNCF tgv Nimes at 30 km
Location: L'Olivier campsite is in village Junas next to Sommières between Nîmes and Montpellier
Présentation de l'hébergement Pitches (4 - Pitches) - Family campsite - Nimes - Junas - Sommieres - Gard L'Olivier Campsite in the heart of Gard - Junas 30250,