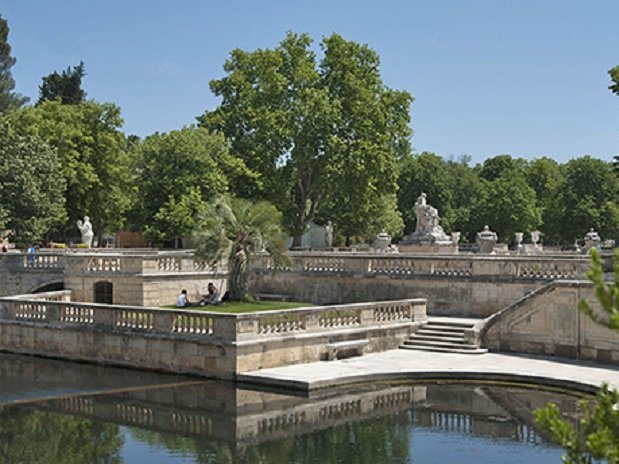 City Nimes
Natural Visits
A 20-30 minute drive from Camping L'Olivier, you can explore Nimes, its famous arenas, its bulls and bullfights!
In the middle of nature and cradled by the southern sun, Nîmes offers a quality of life uncommon. Terraces, squares, gardens, fountains, but also restaurants and cafes are all assets that make it unique Nimes.
The city is both a living museum of Roman civilization, and cultural, vibrant and warm.
Roman monuments, by their majesty and exceptional conservation, ample help forge the identity of Nîmes. Here erected 2000 years, the Maison Carree, the arenas, the castellum divisorium or the remains of the Roman wall are rightly the pride of Nîmes. Nîmes has also been labeled City of Art and History, and works in the design of a future great Romanité Museum.
In the 1980s, the City uses a number of internationally renowned architects: Sir Norman Foster for the development of Carré d'Art, Contemporary Art Museum, and Library; Jean Nouvel for Némausus, social housing building vanguard; Jean-Michel Wilmotte for renovations, among others, the Theatre des Halles and, most recently designer Allées Jaurès.
Contemporary, Nimes is also through the rich cultural life that it unfolds throughout the year. The different scenes welcome internationally renowned artists, bold theatrical creations, great shows to see family.
As for fairs, which combine local traditions and modern music, these are the highlights of the Nîmes agenda; people come from far, far away to even live these intense days and nights.
L'Olivier Campsite in the heart of Gard
Address: 112 Route de Congenies 30250 JUNAS FRANCE
Access: - Access A9 Highway, exit Gallargues Le Montueux, direction Sommières or for longe vehicle, exit 26 Gallargues Le Montueux direction Calvisson and Junas
- Access by plane, airport Nimes
- Access by train, station SNCF tgv Nimes at 30 km
Location: L'Olivier campsite is in village Junas next to Sommières between Nîmes and Montpellier